WTD – Ford E-Series Class C RV 6'' Suspension Lift Kit Fox Shocks "Off Grid"
October 7, 2021
Method Race Wheels 309 Grid
October 7, 2021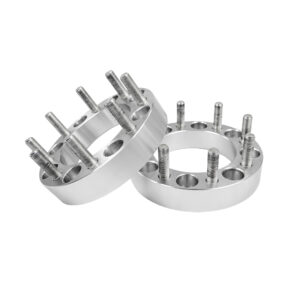 Chevrolet Express 1.5″ Wheel Spacers (Pair)
$170.00
-
Available on backorder
CHEVROLET EXPRESS 1.5″ WHEEL SPACER – QTY 2
These 1.5″ wheel spacers improve clearance between you body and tire when running larger tires on the Chevrolet express vans. These spacers are often used on the rear to accommodate rear tire clearance.
***Caution: If you have a rear sliding door these spacers may not allow you to open your door completely. We offer a remedy for this with our Chevrolet Express Door Slide Extension
When installing these spacers you will need to cut approximately 1/4″ off of your existing studs to allow your wheel to sit flush against the spacer.
INSTALL LABOR – $150 (1 HR)
| YEAR | MAKE | MODEL |
| --- | --- | --- |
| 1996-CURRENT | CHEVROLET EXPRESS/GMC SAVANA | 2500/3500 |
Only logged in customers who have purchased this product may leave a review.